How to Develop Strong Speech, Language, and Play Skills
One of the most common questions I receive from parents is "What toys can I buy for my child?" in relation to developing their speech and language skills.
As parent, grandparent, aunt, uncle, or even a family friend, it can be overwhelming to walk into a toy a store or glance online at the myriad toys available to children these days.
Toys can light up, spin, twirl, and promise a multitude of results all the way from teaching your child their ABCs to turning them into a brilliant mathematician.
I want to break down some common toys available and why they may or may not deliver on their promises. The focus of this article will be on younger childhood, ages 2-5, but the same principles apply to older children.
Let's take a look at my recommended toys! These are my favorite toys to develop appropriate speech, language, and play skills!
Let the fun begin!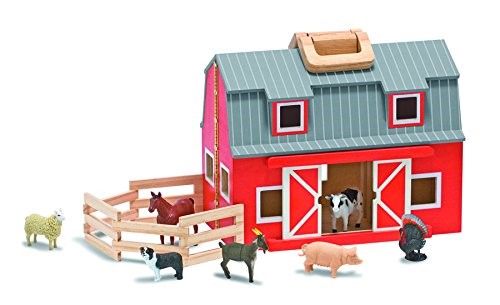 1. Farm Animal and Barn Set
A good farm animal and barn set is the type of toy that can grow with your child. I have used a set like this for children ages 2-7. I have worked on labeling, animal sounds, labeling actions, using longer sentences, prepositions, singing songs, and a variety of pretend play activities. If you worry about your child becoming bored with the pieces- change up the game! As they get older, sets like this offer a variety of pretend play opportunities that are vital to their development and emotional well being.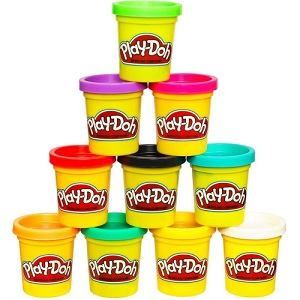 2. Play-doh
Play-doh remains a best seller online for a reason: it keeps little hands busy and it's fun! I have used play-doh with all of my younger students and I find it is a fan favorite. You can have the children request what they want to do with it, what they are doing with it, and label actions while making items. I will add a note of caution: watch younger children as they may be tempted to taste some. When encouraging younger children to speak, it is all about providing your child with multiple opportunities and fostering their use of language. It may not feel like work, like flashcards or an app, but your child is learning and will enjoy this a whole lot more!
*I will also note, that if playing with younger children ages 2-3, you can introduce the concept of colors but do not expect them to label all colors correctly at all times. It is very typical for children in that age range to mix up colors or label every color with their favorite color. So don't feel frustrated if you find this is your experience!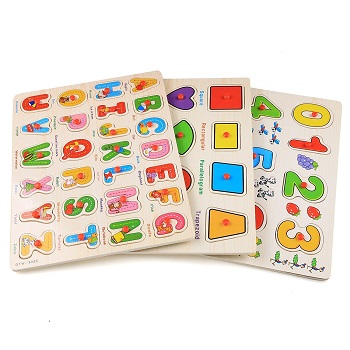 3. Wooden Puzzles
Wooden puzzles are a wonderful option to teaching educational concepts or expanding your child's vocabulary. Between the ages of 4 and 5, children should be learning to identify and label letters, numbers, and shapes. This can make them a great option to work on at home. You can have your child point to a letter or shape or label them as they are completing the puzzle. If the novelty of a puzzle wears off, which it likely will, you can hide the objects around the home and find them or mix them all up and play a sorting game. While wooden puzzles may not be toys that you will use until the end of elementary school, they are great options for preschool age students and are developmentally appropriate toys for that age.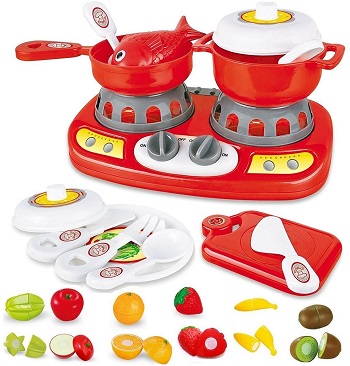 4. Cooking Set
A cooking set is a great example of toys that will grow with your child. While playing with a set, your child can request and label actions, describe their own actions, learn basic prepositions, follow directions, and use pretend play skills. A good cooking set is a type of toy that I will go to again and again with my patients from the ages of 2-6. You can find simple basic ones at the dollar store or more expensive ones at toy store but they will all provide the same basic function: teaching your child functional language skills! So cook away and enjoy whatever concoctions your child brings you with a smile on their face.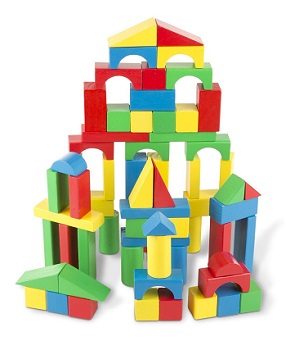 5. Blocks
While blocks may seem like a simple choice, they are far from simple when targeting a variety of play and language skills! With blocks, you can teach your child requesting, turn taking, pretend play, commenting, using longer sentences, and describing actions. For preschool aged children, you can target colors, size, and shape with the type of blocks pictured. When looking at which blocks to purchase, keep size in mind for safey reasons, however; there is no need to buy blocks specifically for a one year old or a two year old. I would recommending purchasing blocks that are non-toxic, sturdy, and too big to swallow (blocks always end up in someone's mouth at some point). Children will naturally learn fine motor skills from stacking and playing.

I almost forgot the most important component to play and learning: YOU! THE PARENT! Whatever you choose to purchase for you child, make sure you are somehow involved in their play. Children learn best from their parents. Even if it feels silly or different, get on the floor and put yourself on your child's level while providing a good model of play and learning skills. This will offer the more than any toy ever could.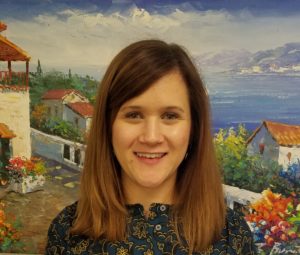 Written by:
Natalie Godfrey, MS, CCC-SLP
Natalie is a speech language pathologist who is currently employed at Speechcenter Inc. Natalie holds a BA in Psychology from UNC-Chapel Hill and a MS in Communication Sciences and Disorders from ECU. She has had extensive experience working in early intervention with toddlers, preschool aged patients, and school-aged children.